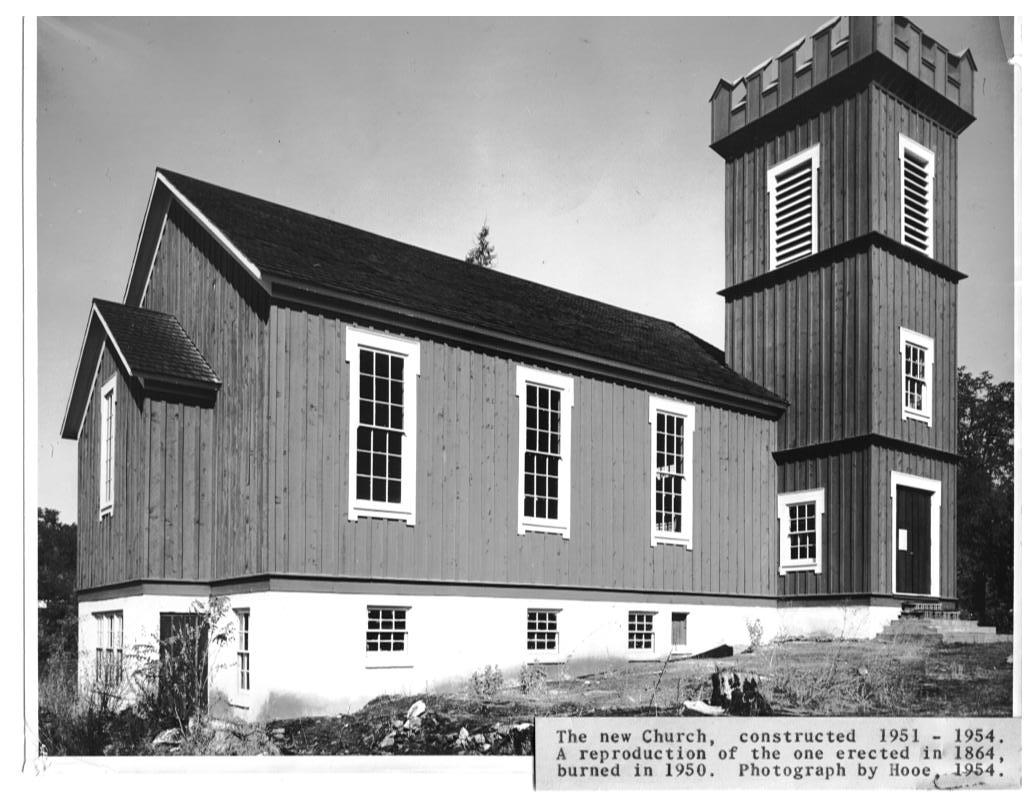 "The New Church, constructed 1951 – 1954. A reproduction of the original erected in 1864, burned
in 1950…"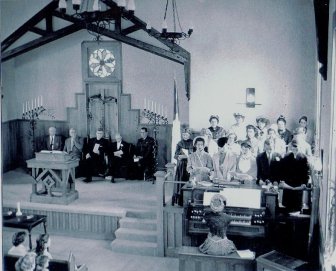 Taken during the worship service of December 19, 1954, when the new sanctuary was dedicated.
The First Presbyterian Church of Columbia was founded in 1854 during California's colorful Gold Rush era. Many early parishioners were local miners, which earned for it the nickname "Church of the 49ers." Today, it is the oldest active Presbyterian Church in the Sierras and is located adjacent to Columbia State Historic Park. (taken from the 2013 glossy church brochure)
Our church has a rich history – God has been the gold here since 1854! Itinerant preachers had traveled through Columbia in the early 1850s. By 1854, the growing number of Presbyterians in Columbia wanted a place of their own. Together they founded the First Presbyterian Church. Ten years later, on October 17, 1864, they celebrated the completion of a new church building. Though our name has changed several times, we have always been a community-oriented church.
In front of the church, the members proudly hung a large copper bell. The miners of Columbia had the bell (forged in 1852) shipped around the Horn, and they rang it to announce fires, shootings, and town meetings. When law and order came to town, the bell wasn't used much. So the church members started ringing it for worship services – a practice which continues to this day.
By 1870, gold mining became less profitable and Columbia's population dwindled. However, worship continued here; and when Columbia became a State Historic Park in 1945, growth and activity slowly increased once again.
Church members continued to meet in the 1864 building for 86 years. It was fully restored in 1950. But seven weeks later it burned down! Nothing was left but nails and parts of the bell. But the community pulled together; and after four years of planning and construction, a replica of the original church building was dedicated on December 12, 1954 – the 100th anniversary of the church's founding.
Stained glass windows were added to the sanctuary during the 1960s; an education building was added in the 1970s; and the church hall was completed in 1991. But the heart of the "Church of the 49ers," as we have long been affectionately known, remains the same. God has blessed us with the wealth of Jesus Christ, and we have always done our best to share that wealth with our community.