History of Church of the 49ers
During the early 1850s, the lure of gold attracted "raucous 49ers" who extracted color from Columbia's immense deposits.  However coarse these early fortune hunters were, most had been raised according to Christian principles and ideals, and as women and children joined them in Columbia, churches (and schools) were established.  By the mid 1850s the town had a population of approximately 6,000, and at least five churches, including the First Presbyterian Church which was founded December 19, 1854.   The Rev. John Brodt was the first pastor.  In March 1855 the Presbyterians purchased a rickety board and batten structure that had been hastily erected by the Methodist Episcopalians (South) on this site.  In 1864 it was razed and a new sanctuary was built:   The wood structure was a modest 52 by 38 feet with a 43-foot belfry.  The cost was $3,000.
By the 1860s, the glory days of Columbia were over and activity and population declined in the community—over the years dwindling down to about 500 persons.  Membership in the First Presbyterian Church declined also, until only two members remained during the 1930s.  At that time, the church was usually without a resident pastor and the congregation became a "mission" responsibility of the National Board of Missions.  A few seminary students occasionally conducted services during summers.  But when the State of California turned Columbia into a State Historic Park in 1945, the town started to grow again.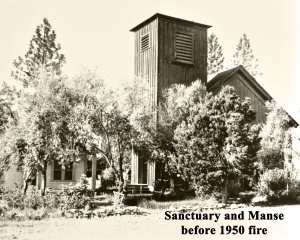 The Presbyterians worshiped in the historic sanctuary for 86 years, and it was recognized as the oldest Presbyterian Church building in continuous use in the Sierras.  But early one morning in June 1950, a disastrous fire completely destroyed the sanctuary and manse.  Pastor Joseph Hillhouse led the members in raising funds and planning for a new sanctuary, and a temporary manse and social hall were erected until a new structure could be completed in 1954.  The new sanctuary is a replica of the 1864 church (though larger), and was dedicated on the 100th anniversary of the organization of the church on December 19, 1954.
One of this church's most unusual pastors, Rev. Hugh Furneaux (1914-1926), preached the Good News to miners, ranchers and loggers in remote camps with his two sonorous companions, Bag Pipe and Pipe Organ (donkeys).  Rev. George Crichton (1958-1968) spearheaded installation of the stained glass windows during the 1960s.  The Dobbins' Pulpit honors the pioneer preachers who came from many distant states in the early 1850s to serve Mother Lode churches.
Many early parishioners of the First Presbyterian Church of Columbia were local miners, which earned it the nickname "Church of the 49ers" – the name the church is most commonly known as today.